The German Residential Property Market at a Glance
To give you an overview of the residential property market in Germany, we have broken down the individual types of use and their advantages and disadvantages for you. Especially as an investor, you want to know what opportunities the German real estate market offers you. And hey – even a property you use yourself is an investment – perhaps the biggest one you've made so far.
New-build properties / New developments
With a new-build property, you have a high degree of flexibility in the design and furnishings. The property has the latest construction technology and meets the most modern energy standards. As an investor, you therefore do not have to plan for any repair or renovation costs in the short or medium term. In addition, you usually have a warranty of five years on the newly built property. 
Advantages of new-build properties at a glance
Payment of the purchase price instalments according to construction progress
Partial planning and design possibilities in the execution and equipment
Building and living in accordance with the latest energy and ecological standards – resulting in lower ancillary costs and greater attractiveness for tenants
warranty is usually five years after handover
Hardly any maintenance costs in the first 10 years
Selection of first tenant and influence on the rent and determination of the rent price
No need to search for land (developer takes over)
Own use possible
If you decide to buy a new-build property, you usually have the living comfort in mind: modern equipment, energy efficiency, good building structure and so on. If you are off-plan buying you have the opportunity to influence the construction and furnishings – according to your own ideas and targeted at your future tenant group or yourself. The modern living comfort makes a newly built property particularly attractive for tenants. Your advantage as a landlord: you can help determine the rent and choose your tenants.
Existing property
Portfolio properties form the largest group in the German real estate market. Existing properties are fully developed properties for which all construction activities have been completed and which are already being used or occupied.  They tend to be cheaper to purchase than newly built properties. In addition, there is no construction risk. Another advantage: As an investor, you have immediate rental income.
Advantages of existing properties at a glance
No need to search for a plot of land
no planning and construction phase
lower purchase prices compared to new build properties
In general, rental income is already flowing in
Subsidies from the KfW Bankengruppe (KfW banking group) possible for renovation measures/improvement of energy efficiency
Structural engineering reports on the quality of the property are available.
Decisive for the market value of the existing property are the location, the potential use and the state of modernisation. You should bear this in mind: Older houses are often no longer state of the art and may not have optimal insulation. Therefore, get a precise overview of the structural condition of the property. When investing in an existing property, plan for renovation and maintenance costs if necessary.
Micro-apartments
Whether students, commuters or singles: they are all looking for small, centrally located and affordable living space with an above average level of amenities. The supply is scarce and growing only slowly. Therefore, so-called micro-apartments are an interesting option for investors. Microapartments are compact, fully equipped rooms with living spaces usually up to about 30 m² that are rented out for a certain period of time. The achievable yields are usually higher than for classic new or existing properties, with lower acquisition costs. 
Advantages of microapartments at a glance
relatively low entry prices or investment due to small units
usually higher yields compared to classic properties
All-round service package by provider/developer (letting, management, operation)
Rental pool concept offers protection against loss of rent
Partial owner-occupation and suggestion of a tenant possible
Especially because demand far exceeds supply, you as a landlord have a high degree of rental security. On average, the yields achieved per square meter can even exceed those of multi-room flats.
The administration and management of small properties should be in the hands of experienced operators. This way, you as an investor do not have to worry about changing tenants, renovation, etc. yourself.
Listed/refurbished properties
Listed properties are historic buildings that should be preserved for the future of mankind because of their nature, their construction, their history or other important reasons. By purchasing a listed property, you make a contribution to the protection of historical monuments. The state rewards this with attractive tax benefits. These advantages are also available when purchasing a property in so-called redevelopment areas.
Advantages of redevelopment / monument properties
Tax advantage through increased monument/refurbishment depreciation
Participation in the preservation of urban cultural assets
Own use possible
Selection of tenants and influence on the rental price
After completion at new building level through core refurbishment
The tax office not only subsidises the refurbishment of the building's exterior, but also the fundamental renovation and modernisation of the building's interior. If you rent out the building, you can claim the renovation expenses against tax for eight years at nine percent each and for four further years at seven percent each. Owner-occupiers, however, cannot claim the entire costs for the refurbishment, but only a total share of 90 %, divided over ten years.
With a listed or renovated property, you not only benefit from the high tax advantages. At the same time, the core refurbishment increases the asset value and the attractiveness for solvent tenants.A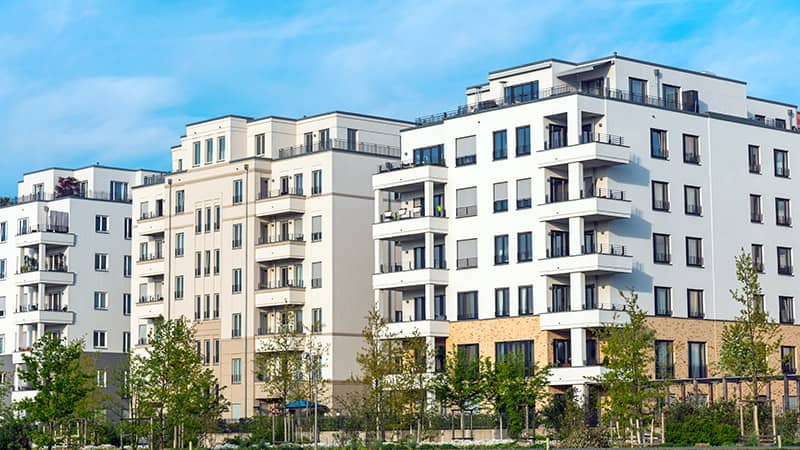 Complete Bloc of flats
With the acquisition of a bloc of flats you are the sole owner of complete buildings. These are usually apartment buildings. The spectrum ranges from new buildings to existing buildings to listed buildings.
Advantages of global properties / interest houses at a glance
no division according to residential property (no condominium owners' association)
Tax advantage through increased depreciation on listed buildings/refurbishment, if applicable.
As an investment, global properties offer good returns with a balanced risk profile for well-funded and experienced investors. Due to the relatively high investment sums, they are suitable for institutional investors, wealthy private clients or family offices from an investment of 1.5 million euros.